History of No Greater Love Christian Church
A call from God to change lives and impact the world was answered in 2000, when Apostle Chavis along with eight members held the first service in November, 2000.  Apostle Chavis began this divine assignment in Scarborough Hargett Chapel in Durham, North Carolina.
No Greater Love has since grown into a vibrant purpose-driven ministry with a vision to save souls and empower people to live their best life through the power of Jesus Christ.
At the heart of this ministry is the essence of "love". This is not only found in the life of the church, but also with the people who have connected and contributed to its efforts to  truly show the love of Jesus.
No Greater Love has experienced tremendous growth in ministry and has been blessed with countless opportunities to share the gospel of Jesus Christ with numerous people. Over the past several years, the local church membership has dramatically increased in number.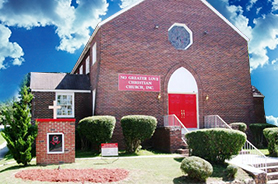 In 2010, No Greater Love was able to purchase a whole community block for worship services and a home to house females that need housing. No Greater Love also birthed another church, No Greater Love Christian Church-Hillsborough in Hillsborough, NC under the leadership of Pastor Lacha Scott and Ronald Scott.  We currently have several ministries designed to meet the needs of men, women, children and teens, young adults, seniors, as well as singles and married couples. We are presently in the midst of designing classes to help those that struggle with sexual sins such as, homosexuality, fornication, adultery, etc. to overcome and break the stronghold.
Our community outreach efforts include our annual Community Extravaganza, Clothing Give-away, Yearly School Supply Drive, Food Bank, Jail Ministry, Thanksgiving and Christmas Dinner for low income families and food giveaway every Tuesday (compliments of Panera Bread).
Additionally, our outreach efforts include missions work in the community in a quest to reach more souls.  We also offer biblical study and ministerial classes.